By Melanie Espinal and Chloe Gorman, SCSU Journalism students
Melanie Espinal and Chloe Gorman, journalism students at Southern Connecticut State University, reported this story in 2017 as part of Journalism Capstone coursework on World War I.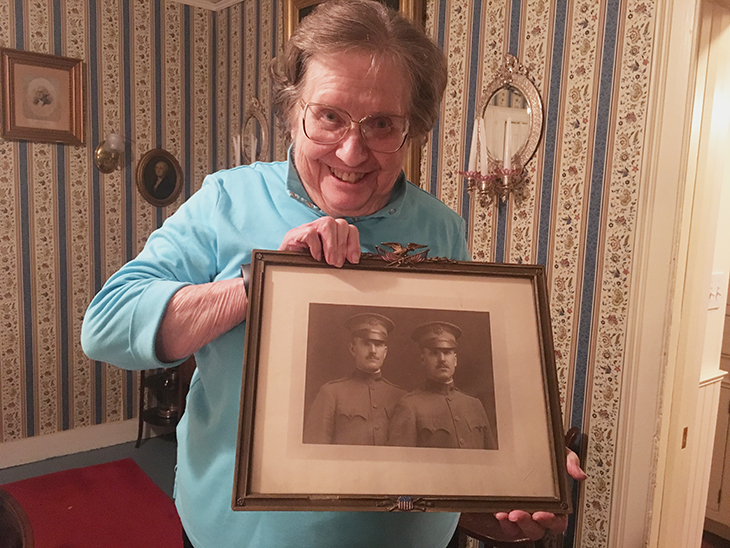 The Colt .45-caliber revolver Capt. Thornton Chatfield Thayer us during his service in World War I is among the reminders of his family's service to wars on display at the Cheshire home of his niece, Jean McKee.
Thornton Chatfield Thayer's Colt .45, which he carried with him to Argonne, was only fired once during the nearly two-month long Meuse-Argonne Offensive. Thornton Chatfield Thayer received medals for his service in the battle, which according to the U.S. National Archives, took the lives of more than 26,000 U.S. soldiers.
McKee has turned her home into a quasi-museum that demonstrates her family's contributions to American history.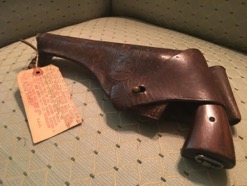 She also displays Thornton Chatfield Thayer's two doughboy uniforms and several photographs, which catalog her family's strong connection to World War I. Her father and two uncles all served during the war.
"The tradition of holding onto things of historical interest has gone on in my family for generations," McKee said.
McKee's father, 2nd Lt. Waldo McCutcheon McKee, served in the 77th Division along with McKee's uncle — her mother's brother — Capt. Thornton Chatfield Thayer.
Gordon Chatfield Thayer, McKee's other uncle, also served during World War I, with the Motor Transport Corps.
McKee preserves the family home that sits on South Brooksvale Road in Cheshire, which has been in their possession for almost three centuries. The house has seen every war since the American Revolution.
"My uncle Gordon was the first one to go into World War I," she said.
1st Lt. Gordon Chatfield Thayer served in the 407th Motor Supply Train of the Motor Transport Corps transporting artillery, troops and supplies to the battlefield.
The 407th went to France, and assisted the French reserves before the United States became officially involved, Jean McKee said.
Thornton Chatfield Thayer was attending Yale when the United States entered the war. Eventually, he went on to train at the Yale Officers Training Camp until he was drafted on May 15, 1918.
Upon leaving, he became a forward observer in the 305th Field Artillery Regiment of the 77th Division. As an observer, Thornton Chatfield Thayer's job was to assess the front lines, and direct artillery fire onto the opposition.
"[He saw] where the enemy was, [and positioned] the troops," Jean McKee said. "And there were times when he climbed up trees and did all sorts of things to figure out where people were, and what the troops needed to do, where to put the guns so they could fire at the enemy."
Though they experienced the "ravages of war," Jean McKee recalled learning more about war tactics instead of the battles of the Argonne Forest and Chateau-Thierry, where Thornton Chatfield Thayer fought.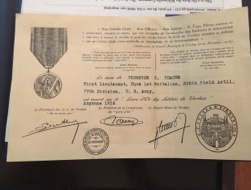 Thornton Chatfield Thayer reflected on the state of France in his letters to his parents, John Van Buren Thayer and Elizabeth Brooks Chatfield Thayer.
"The demolition of towns is quite beyond description and the complete rebuilding must be uncertain," he wrote. "One staggers at its consideration."
Thornton Chatfield Thayer also recalled a conversation with a mother who had not received word of her two sons in the French Army for two years.
"The times have been very trying for the French," Thornton Chatfield Thayer wrote. "The sights which we have seen have been most pathetic."
Jean McKee said she was never told about these experiences. She said her uncles and father tried to protect her from the horrors of war.
During his time in the regiment, Thornton Chatfield Thayer met Jean McKee's father, Waldo from Grand Rapids, Michigan, who also served in Argonne, as the liaison officer.
Waldo studied engineering in the University of Michigan, said Jean McKee, and left in January 1918 to enlist as a private in the Third Officers Training Camp in Michigan.
"As happenstance would have it, the unit — the 305th Field Artillery unit — was mostly metropolitan-New York area soldiers or draftees," Jean McKee said. "And [Waldo] goes overseas and they assign him to that unit, and there's my uncle. And because he grew up with cousins of ours in Grand Rapids, they became friends."
If it had not been for World War I, Jean McKee said, her parents never would have met.
Waldo returned to Michigan after the war, but not before he attended a Victory Parade in New York City in May 1918, which took place on Fifth Avenue.
Jean McKee's great-aunt held a reception after the parade, and an invitation was extended to Waldo because he had no family in New York. That's where he met Elizabeth Brooks Thayer, Jean McKee's mom, and Thornton Chatfield Thayer's sister.
"He saw a beautiful girl in front of the fireplace," she said, "and that was it."