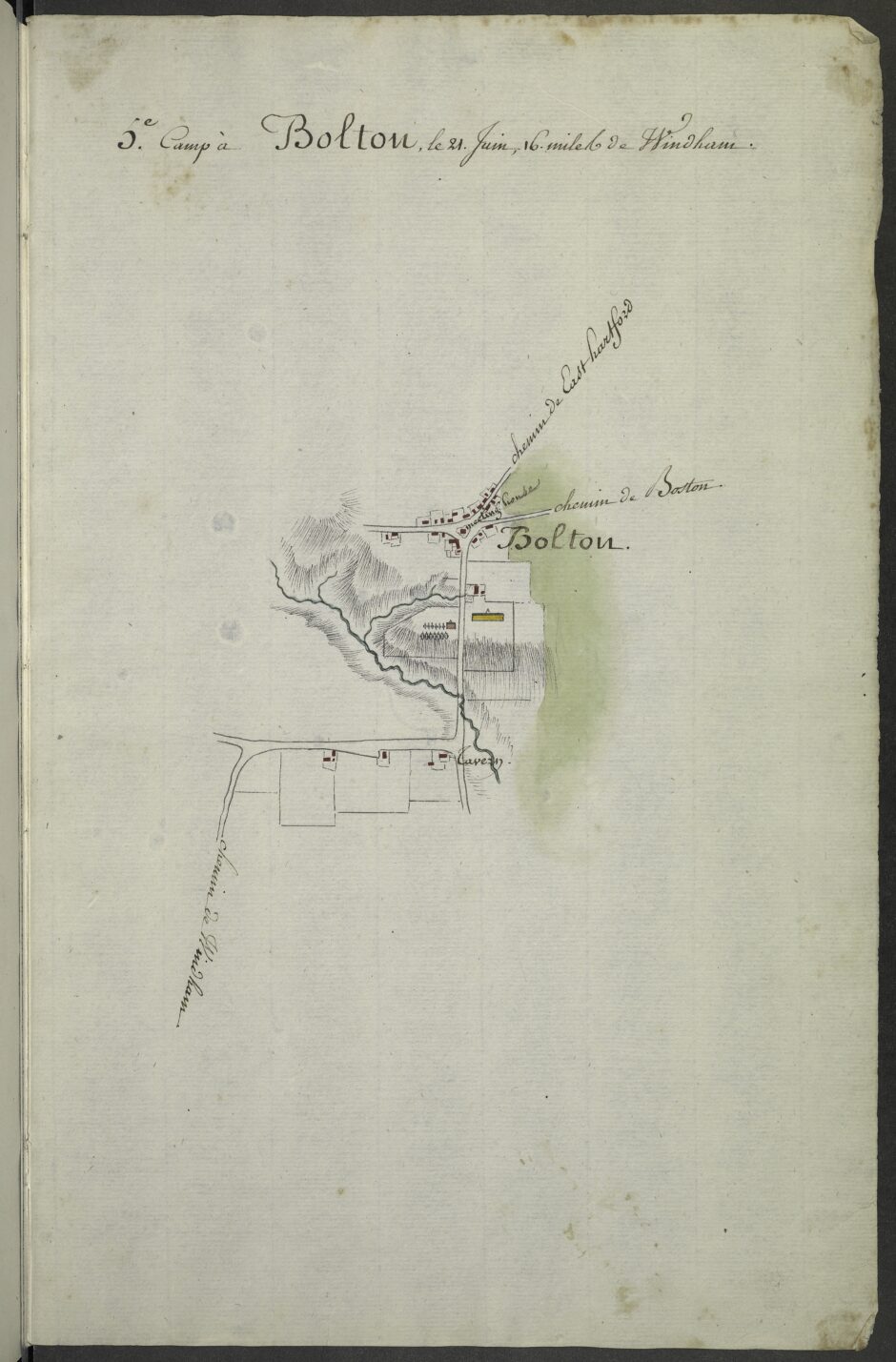 Digging Into History is back with a whole new program centered right here in Connecticut! Bolton, Connecticut to be exact. And we're flipping the script – instead of exploring how Connecticut soldiers experienced France during the First World War, we'll be exploring how French soldiers experienced Connecticut during the American Revolution!
Best of all is that our friends from across the pond will be joining us here in Connecticut! This time, we'll be hosting 10 students from the Communaute de Communes Mad et Moselle (an administrative region in eastern France that includes Seicheprey) and their chaperones. We are so excited to show off our little state with some big history!
Why Bolton? Bolton was one of the places Marshal Jean-Baptiste Donatien de Vimeur, comte de Rochambeau and his French Army troops camped during their march to Yorktown in 1781. This camp, known as Camp 5, was part of the Reverend Colton's lands when the French stayed here, but is now part of the Bolton Heritage Farm, a town owned preserve. It is also has a National Register of Historic Places designation and is an archaeological preserve, meaning anyone digging, metal detecting, or damaging the site in any way, without a permit, can face felony charges and substantial fines.
Since we don't have trenches to restore, we'll be working with the Connecticut State Archaeologist Dr. Sarah Sportman and the State Historic Preservation Office to conduct an archaeological excavation of a small part of this camp. We'll also take some time to do some community service work, like trail maintenance at the Bolton Heritage Farm, for the town of Bolton. It won't be all work though, we'll be exploring some of the rich Revolutionary history Connecticut has to offer as well as a few pure fun in the sun days!
This isn't just a program for the students though. We expect parents and families to be involved a bit too. We have a few events in the run-up to July where we want families to participate and get to know each other, the partners and community members we'll be working with. And teachers, there will be plenty of opportunities for you, your students, and your schools to get involved too! So stay tuned for more information.
---
Introducing our 2023 Digging Into History Students
We are excited to announce our 2023 Digging Into History cohort! We had an amazing group of applicants from schools across the state. Our application and interview team, which included students from the 2019 program, had to make some really tough decisions! We are so proud of all the students who applied and are happy to welcome our newest students to the Digging Into History family!
Micaela Arenas ~ Manchester ~ Manchester High School
Madelyn Arey ~ Vernon ~ Rockville High School
JP Dargati ~ South Windsor ~ South Windsor High School
Emma Grimmer-Solem ~ West Hartford ~ Conard High School
Zarah Hillman ~ Greenwich ~ Greenwich High School
Bhaavni Krishna ~ South Windsor ~ South Windsor High School
Zerek Laghari ~ Groton ~ Robert E. Fitch High School
Victor Montilla ~ Windsor ~ Windsor High School
Maryclaire Pantano ~ Madison ~ Daniel Hand High School
Elizabeth Rogers ~ Ridgefield ~ Ridgefield High School
Grace Smith ~ South Windsor ~ South Windsor High School
Rowan Varney ~ Bolton ~ Bolton High School
---
Help make this program a success!
You can help make this program a success by donating today! We have to raise more than $65,000 $10,000 to make this program happen so every penny helps. We want to provide some scholarships for our students who are required to pay $750 to participate. And we have a few sponsors and grants, but the costs associated with housing and feeding the students and our chaperones is on us, so if you can help, please do so now! We'll be sure to thank you on our donors page and you'll be invited to come see us at the dig site for an open house to meet the students and see everything they've learned and accomplished.
We also have a few sponsorship packages available for businesses or individuals that might want to be a little more involved. And we've included some great perks for our sponsors from limited edition t-shirts to a clambake on the beach! We're also looking for some cool Connecticut made stuff for the "Welcome to Connecticut Gift Bags" we'll be giving our French guests. If you'd like to donate something like this, please let us know! To read more about sponsorship opportunities please see our Sponsorship Packet.
---