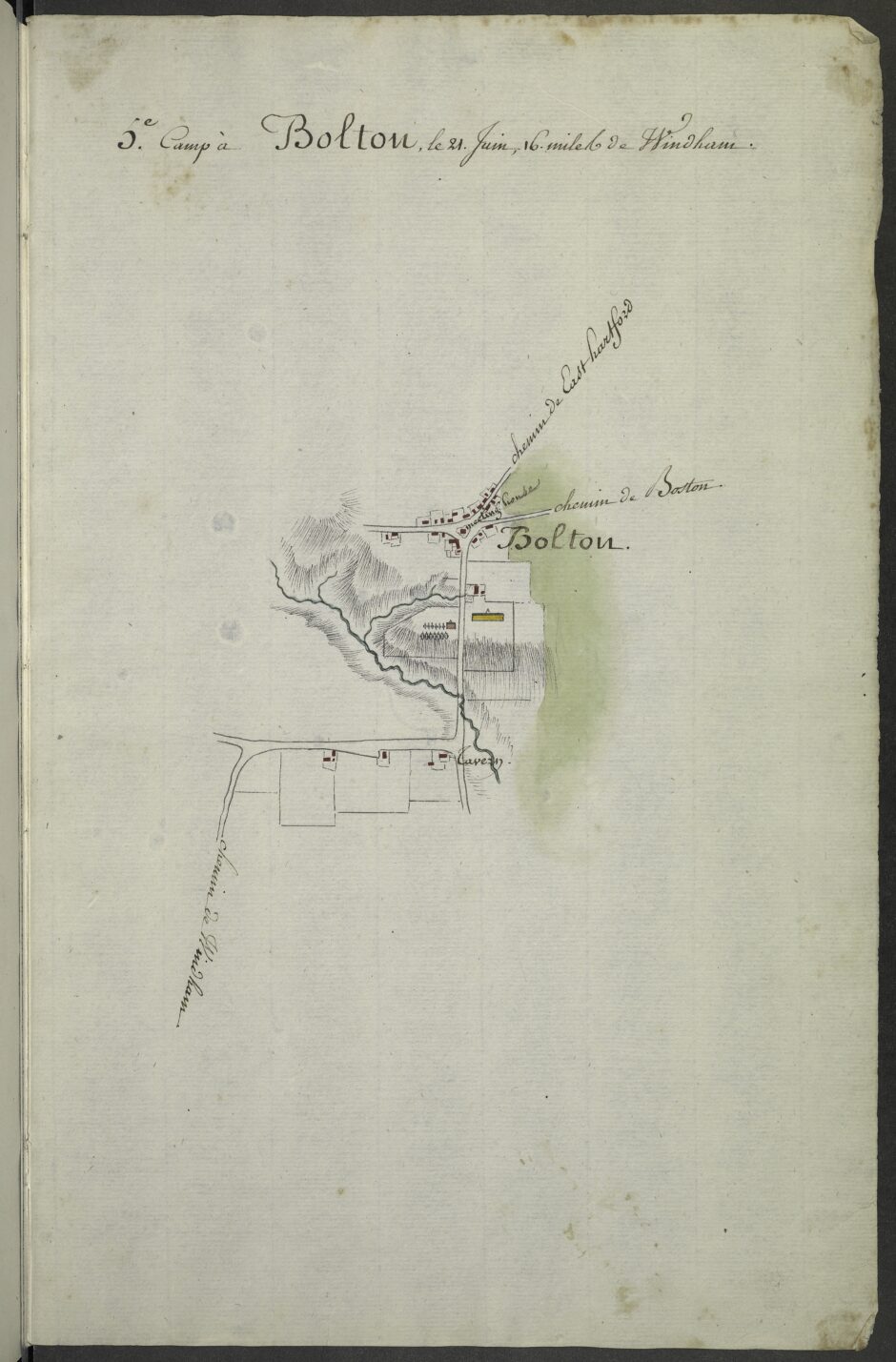 Digging Into History is back with a whole new program centered right here in Connecticut! Bolton, Connecticut to be exact. And we're flipping the script – instead of exploring how Connecticut soldiers experienced France during the First World War, we'll be exploring how French soldiers experienced Connecticut during the American Revolution!
Best of all is that our friends from across the pond will be joining us here in Connecticut! This time, we'll be hosting 15 students from the Communaute de Communes Mad et Moselle (an administrative region in eastern France that includes Seicheprey) and their chaperones. We are so excited to show off our little state with some big history!
Why Bolton? Bolton was one of the places Marshal Jean-Baptiste Donatien de Vimeur, comte de Rochambeau and his French Army troops camped during their march to Yorktown in 1781. This camp, known as Camp 5, was part of the Reverend Colton's lands when the French stayed here, but is now part of the Bolton Heritage Farm, a town owned preserve. It is also has a National Register of Historic Places designation and is an archaeological preserve, meaning anyone digging, metal detecting, or damaging the site in any way, without a permit, can face felony charges and substantial fines.
Since we don't have trenches to restore, we'll be working with the Connecticut State Archaeologist Dr. Sarah Sportman and the State Historic Preservation Office to conduct an archaeological excavation of a small part of this camp. We'll also take some time to do some community service work, like trail maintenance at the Bolton Heritage Farm, for the town of Bolton. It won't be all work though, we'll be exploring some of the rich Revolutionary history Connecticut has to offer as well as a few pure fun in the sun days!
This isn't just a program for the students though. We expect parents and families to be involved a bit too. We have a few events in the run-up to July where we want families to participate and get to know each other, the partners and community members we'll be working with. And teachers, there will be plenty of opportunities for you, your students, and your schools to get involved too! So stay tuned for more information.
---
When is this going to happen?
This program will run from Monday, 10 July 2023 to Monday 24 July 2023 in Bolton, Connecticut. We'll announce the location of our lodging in November 2023.
The cost for the two-week program is $750 dollars, and covers all lodging, meals, transportation, and activities. Successful applicants will be required to submit a $500 non-refundable deposit by 1 February 2023 to ensure their spot in the program. The remaining balance will be due by 1 May 2023.
*Don't let the cost prevent you from applying! We can help you find some ways to do fundraising to cover the costs!
This program is only open to Connecticut high school students* currently in 10th or 11th grade (entering 11th or 12th grade in the 2023/2024 school year).
*Student must be a resident of Connecticut. Out of state students attending and/or boarding at a Connecticut high school are not eligible.
What is the application process?
There are 15 spots available so the admission process is competitive. Applicants are required to write a few short essays and provide two recommendations from teachers, coaches, or other community members.
Once the application period closes at 11:59 p.m. on Sunday 27 November 2022, we'll get to work reading and score the application packages. The top 20-30 students (depending on number of applicants) will go through an interview process with the chaperones in early-mid December. Final selection and notification will happen in late December-early January 2023.
What will the day-to-day program be like?
10 July 2023 is when the fun begins! Students will check-in to the lodging (to be announced soon) so we're ready to welcome our French friends. We'll have seven days in the excavation trenches with a few concurrent community service projects. In the evenings after a work day, we'll be at our lodging doing activities like a scavenger hunt or the beloved cook-off against our French teammates.
It's not all work though! We have a number of fun activities planned so we can show off some of the great things Connecticut has to offer. We promise you'll never be bored! We'll wrap up the program with a farewell dinner to bid au revoir to our new friends, and you'll get to head home on 24 July 2023.
What about lodging and meals?
We are currently in talks with two different schools to provide lodging and meals, and should be able to announce where we'll be staying in November. Regardless of where we stay, boys and girls will be housed separately, either on different floors or wings, with chaperones in between. We expect to have 5-6 chaperones as well as 1-2 interns for the 30 students.
Will there be an informational session where I can ask some questions?
Yes! We'll have two sessions online where students, parents, or teachers can learn more about this program. You'll also get to hear from some past participants and their families about what it's like.
Thursday, 10 November 2022, 7:00 p.m.
Wednesday, 16 November 2022, 7:00 p.m.
---
Help make this program a success!
You can help make this program a success by donating today! We have to raise more than $75,000 to make this program happen so every penny helps. We have a few sponsors and grants, but the costs associated with housing and feeding the students and our chaperones is on us, so if you can help, please do so now! We'll be sure to thank you on our donors page and you'll be invited to a picnic we'll be holding next July to meet the students and see everything they've learned and accomplished.

---