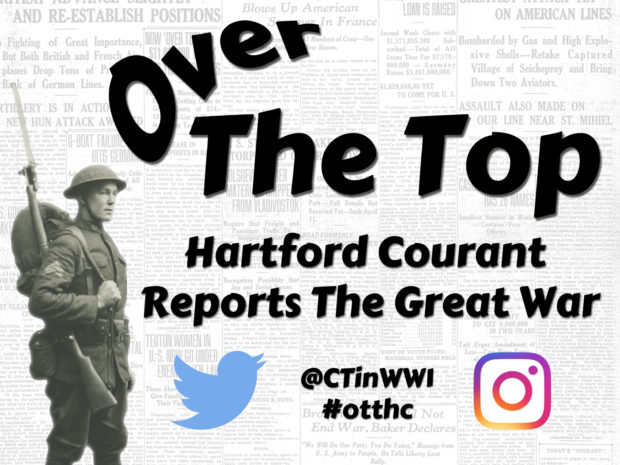 "Over The Top: Hartford Courant Reports The Great War" on Twitter (#otthc) keeps you up-to-date on the news of the day! Well, the news of 100 years ago.
Each day "Over the Top" tweets the front page of the historic Hartford Courant to give an overall sense of how the war was being reported by the nation's oldest continually published newspaper.  Occasionally more local stories will be covered to show the lives of Connecticut's residents were impacted by the war, stories like whether or not military training should be compulsory in public schools to how factories were recruiting society girls to make gas masks. Selected stories will also be covered in more depth on Facebook and Instagram so be sure to follow us on all three!
Many of the photos that appeared in the Hartford Courant in 1917 and 1918 were taken by three local photographers, William G. Dudley, Frank Chudoba, and Edward H. Crocker. Their photos covered war-related activities mostly in Hartford though there were photos from across the state. After the war these photos were donated to the Connecticut State Library. Some are found in the Dudley Collection (PG 034) and others are scattered throughout the Department of War Records (RG 012). Images of the Hartford Courant used in this campaign are provided by ProQuest.