This week's Friday Find comes from our friends at the Middlesex County Historical Society in Middletown, Connecticut.  This fascinating pass comes from a book containing over 100 of these passes. The passes include name, residence, nationality, occupation, employer, and waterfront area the pass holder was permitted to access during World War I. A number of last names found in the book belong to people who still live in town today.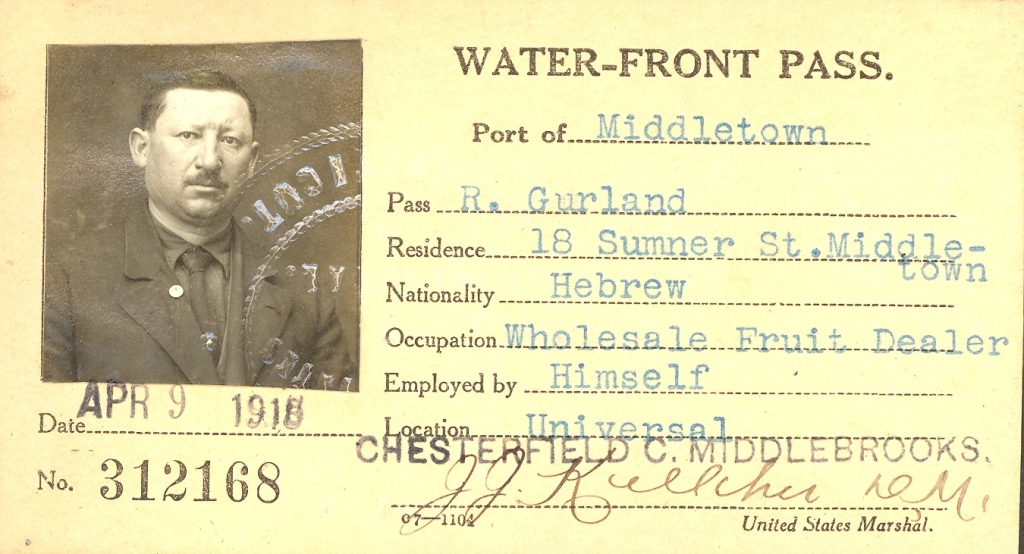 These waterfront passes were the result of federal regulations aimed at securing the nations docks from enemy aliens. The Hartford Courant reported on these new regulations on March 15, 1918 saying "All water-fronts are within barred zones and no person, be he German alien or otherwise, has a right to enter a water-front barred zone." Passes were issued by the United States Marshals and were required to enter these barred zones.
The article goes on to note that a feature of these regulations was the Location, which designated what areas a pass holder was eligible to enter. In the case of teamsters, drivers and chauffeurs, a "Universal" designation was required. This allowed them to access any waterfront areas provided they also displayed their shipping receipts.
To see more of these passes you can visit the Middlesex County Historical Society or check out this Flickr set from the Florida Keys Public Libraries.
This book, accession number is 1933.6.1, was given to the Middlesex County Historical Society by Thomas Macdonough Russell.  Russell was a direct descendant of Commodore Thomas Macdonough, the hero of the Battle of Lake Champlain on September 11, 1814 and of Samuel Russell, the China trader and founder of Russell Manufacturing.  He was Mayor of Middletown from Jan, 1908 to Jan, 1910. Thomas Macdonough Russell, III currently represents the Russell family on the Board of Trustees of the Russell Library.
A big thanks to Deborah Shapiro and the folks at Middlesex County Historical Society for providing us with this great piece of Connecticut history!