By Michael Riccio, SCSU Journalism student
Michael Riccio, a journalism student at Southern Connecticut State University, reported this story in 2018 as part of Journalism Capstone coursework on World War I.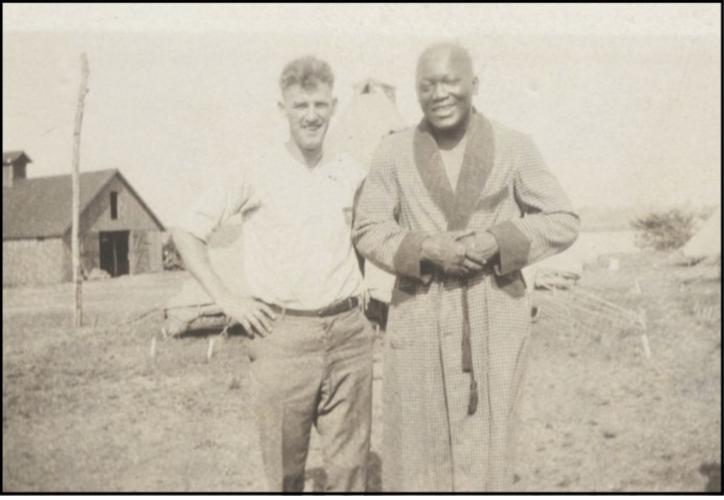 Jack Johnson, the first African-American Heavyweight Champion in boxing, brought his talents to Niantic, Conn. in 1923 to fight an exhibition at Camp Hines for disabled World War I veterans.
Johnson was award the heavyweight title in 1908 after defeating Tommy Burns, and kept it until being defeated in 1915 by Jess Willard.
Camp Hines was a camp for the wounded and disabled soldiers as they tried to fit into society and get any assistance they needed. This camp was open for the month of August from 1922-28.
Camp Hines was originally named Camp Forbes after Lt. Col. Charles R. Forbes, who was the director of the United States Veterans Bureau, and opened in 1922. According to an article published in the Hartford Courant on May 13, 1923, the camp was renamed in honor of Brig. Gen. T. Hines.
Businesses and charity organizations funded the camp and donated time, food and labor to help run it.
According to a Hartford Courant article on Aug. 28, 1921, 3,000 soldiers came back to Connecticut as wounded or disabled from tuberculosis, gas poisoning, shell shock, and nervous and mental disorders. Men were chauffeured to Niantic in cars provided by the Rotary Club and Hartford municipal departments.
The camp provided different forms of entertainment to help veterans relax, such as bands, motion pictures, vaudeville, minstrel shows, volleyball, baseball and checkers and card tournaments. Trips were also made to Fisher's Island, Fort Wright and New London. World War I officers from overseas, politicians and members of the National Guard and regular Army visited and gave speeches. Relatives and citizens were also allowed to visit and join in on the entertainment.
On Aug. 31, 1923, Johnson put on an exhibition fight at Camp Hines.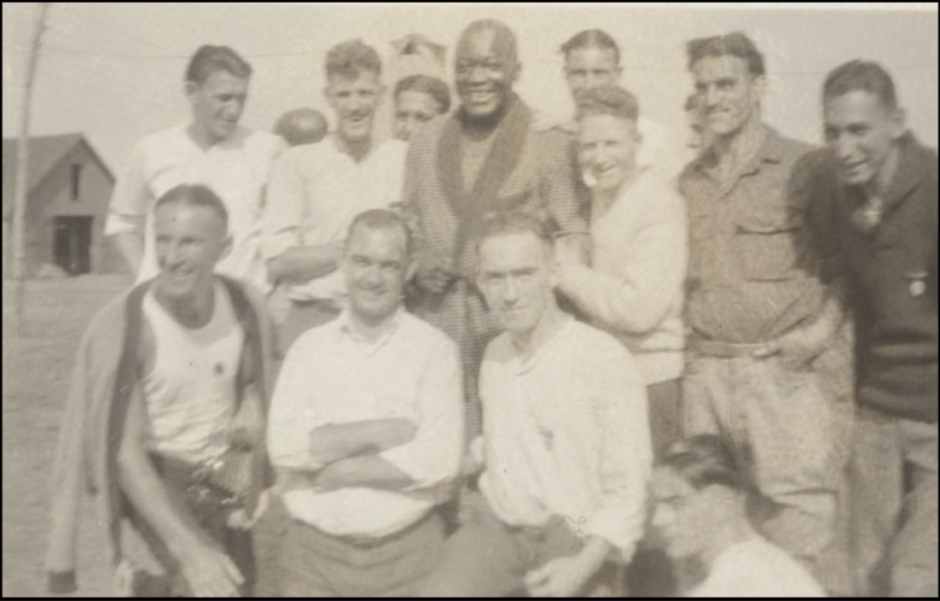 At Camp Hines, he appeared with two sparring partners in three bouts of three rounds. Other fights were also scheduled along with Johnson's, but his was the main attraction. The Hartford Courant wrote on Aug. 30, 1923 that "this should prove a treat to the boys to see the former titleholder." The event was reported to be free for both veterans and the public.
Johnson fought Chief Natotuah, who hailed from Kansas, Phil Reynolds from Brooklyn, N. Y., and Frank Ward from Philadelphia. The Courant also wrote Johnson "was good natured and amused the crowd with witty asides." Even though he was 44 years old, he was still "quick as lightening."
Johnson also gave a speech where he said he was glad to fight any exhibition at any time to help the veterans. Johnson also entertained the veterans by telling jokes and stories.
One of Johnson's most famous fights occurred in 1910 against Jim Jeffries. Jeffries was a white boxer who held the heavyweight title and came out of retirement to fight Johnson. Johnson ended up knocking Jeffries out in the 15thround. The fight was filmed in Reno, Nev., and when white citizens found out about the result, riots erupted against black citizens. However, of the result, Johnson became a global celebrity.
Johnson was arrested under the Mann Act in 1912, but fled to Montreal and then France before living in Europe, South America, and Mexico. He eventually returned to the United States on July 20, 1920 and served a prison sentence until 1921. Johnson had also lost his heavyweight title and never regained it. Johnson's arrest led to him putting on boxing exhibitions, such as the one at Camp Hines.
One disabled veteran from Hartford, John B. Riddle, was a mechanist for Pratt and Whitney. When he was 21 years old, he served with Troop B, 5th Militia Cavalry at Nogales on the Mexican border. Riddle also served with the 101st Machine Gun Battalion, 26th Division. He suffered from shell shock during World War I battles.
In 1923, Riddle attended Camp Hines with a camera and took pictures of the camp and Johnson's visit. Riddle photographed Johnson with his expensive cars, his sparring partners, and Johnson with campers.
Johnson continued boxing in exhibitions after his release from jail. He also continued to fight in Connecticut, and fought in front of 5,000 people in New Haven in 1929, but shortly after decided to stop fighting.
Johnson was known for wearing fancy clothes and driving fast cars. He was cited for speeding multiple times and survived four car accidents. However, on June 10, 1946, Johnson crashed his car into a telephone pole in North Carolina.
He died at the age of 68. He was inducted into the Boxing Hall of Fame in 1954.
Even though Johnson suffered through discrimination during his career, his appearance at Camp Hines was used as a way to help wounded World War I veterans. Camp Hines continued to welcome veterans in August to help disabled ex-soldiers.