This weeks Friday Find comes to us, sort of, from Alan Learned, the grandson of WWI veteran Corporal Merritt Learned of Meriden. A few weeks ago, Alan alerted me to a collection of photos and a diary from a Connecticut soldier that was listed on eBay. I promptly let our curator, Dave Corrigan know and he was able to purchase this group for our collections.
The grouping contained items belonging to Corporal Ernest F. Schmith of Southington, Connecticut. According to Service records : Connecticut men and women in the armed forces of the United States during World War, 1917-1920  Schmith enlisted in the Connecticut National Guard on June 21, 1916 in Meriden. He was attached to Co. L 2nd Infantry Connecticut National Guard (which became Co. L, 102d Infantry) until his discharge on July 19, 1919. He was wounded in action on July 22, 1918 and wounded again on October 25, 1918 and was discharged as 75% disabled.
The diary Corporal Schmith kept was a small notebook, 3 x 5 inches, in which he chronicled daily life as a soldier on the Mexican border. Schmith starts the notebook by recording his enlistment, trip to Niantic and a brief mention of the trip from Niantic to Nogales, Arizona on June 28, 1916. 

One of the first experiences he chronicles was on August 19, 1916 when he says he stood guard duty in the "red light district". He also writes about the weather, mess times, drilling and hikes – lots of hikes.
He records that the 2nd Regiment began preparations for a hike from Camp Stephen Little in Nogales to Fort Huachuca on August 31, 1916. He chronicles the journey, mentioning the places they stopped to make camp.  This was a five day 50+ mile hike through the Huachuca Mountains. After having "bread & water" for dinner on September 5, 1916, the men of the 2nd must've been happy for a real breakfast at Fort Huachuca. Schmith records it as "coffee, french fried Bt. bacon, and fried onions". 

He writes a much more detailed account of the trip home, which began on October 17, 1916 when he says "Strike tents make up rolls and general police of camp. Leave Nogales 6:23 P.M. in Pullman Sleepers.". The trip took about two weeks and Corp. Schmith notes stopping at in Texas, Arkansas, Missouri, Ohio and New York, with a side trip to Niagra Falls. Coming home was not the end of military service for Corporal Schmith, he shipped over to the front and served in France in the 102d Infantry, 26th "Yankee" Division.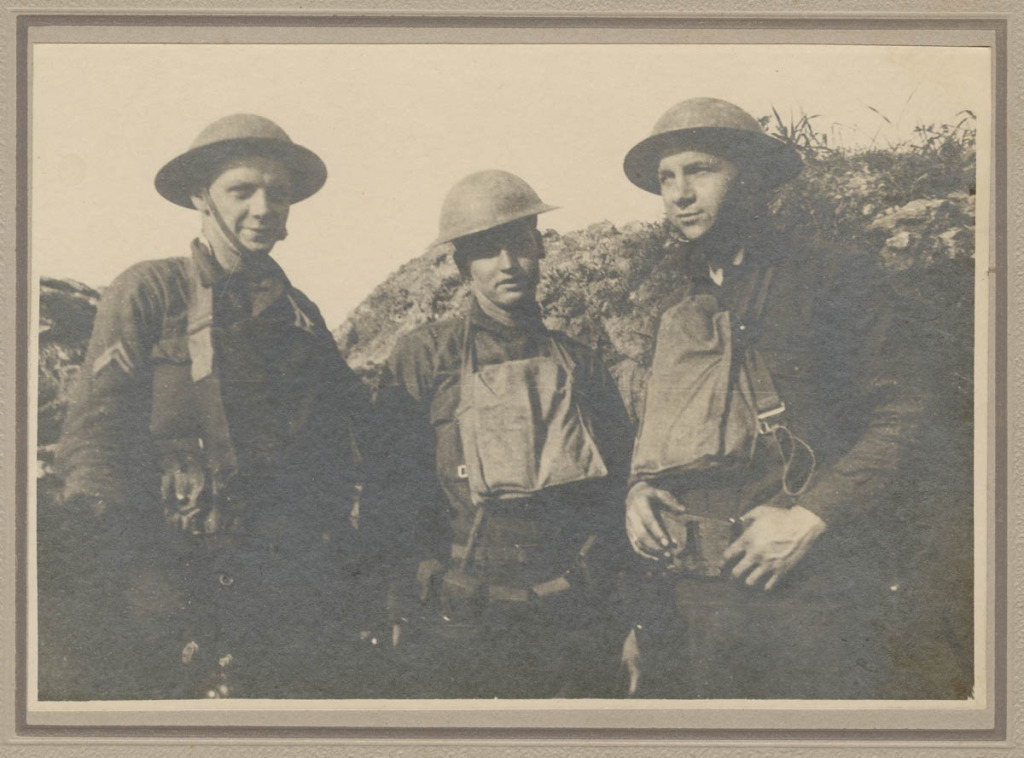 Corporal Schmith inscribed the back of the above photo as "Trenches at Seichprey 1918 me on right".  Alan says his grandfather identified the man on the left as "Stewart" and thought him to be a member of the Massachusetts National Guard assigned to the 102d Infantry in Spetember 1917 to bring the division up to strength. He also added this:
Private Ernest F. Schmith served with Corp. Merritt Learned in Company L, third battalion, 102nd Infantry. He was tom Southington, Connecticut. Schmith was severely wounded in action on Hill 360, Bois D'Ormont north of Verdun on October 25, 1918 and was 75% permanently disabled.
The fellow in the center is Corporal James P. Gallivan. Gallivan was an assistant Town Major of Beaumont. Gallivan became a sergeant on Oct. 1, was WIA on Oct. 31 and was 10% permanently disabled. This photo was taken near Ansauville, Toul Sector. This was a reserve area behind Mandres-Aux-Quatre-Tours."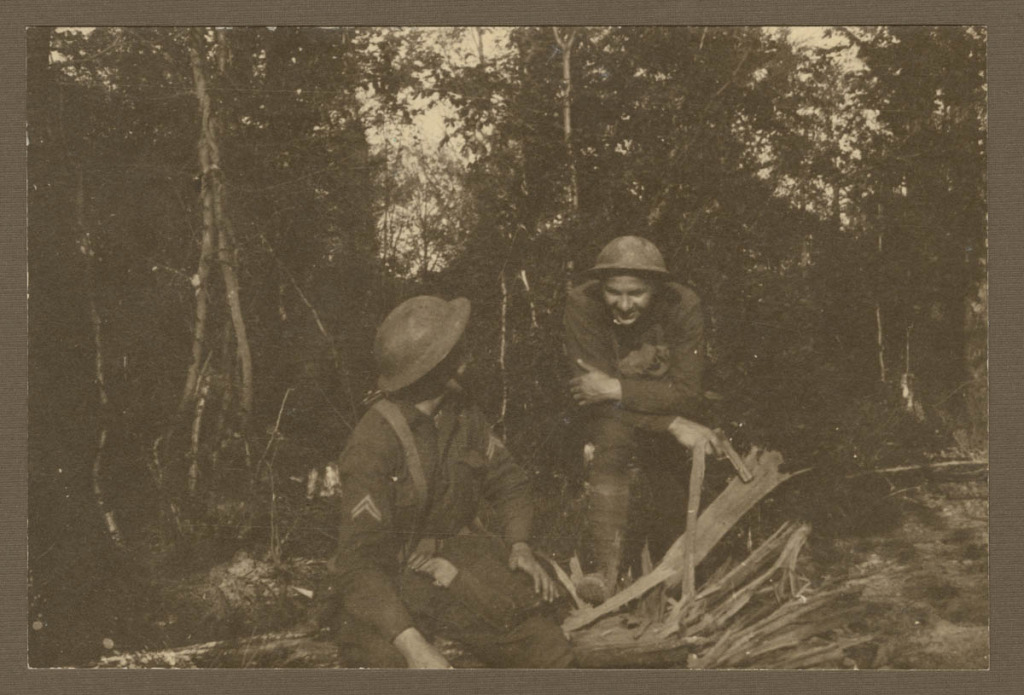 The photo above was likely taken by Corporal Merritt Learned of Meriden, who according to his grandson Alan, "was an inveterate shutterbug, on both sides of the camera". Alan also told us he has the exact same photo in his own collection. On his copy the soldiers names are inscribed on the bottom of the photo and on the back is the title "On Patrol" with the location inscribed as "Jury Woods". The soldier on the left as Corporal Ken T. Church of Meriden and Corporal Ernest F. Schmith is on the right.
Thanks to Alan for pointing this collection out to us! It's a great addition to our collections!
Stay tuned for more Friday Finds and news about some upcoming digitization events!