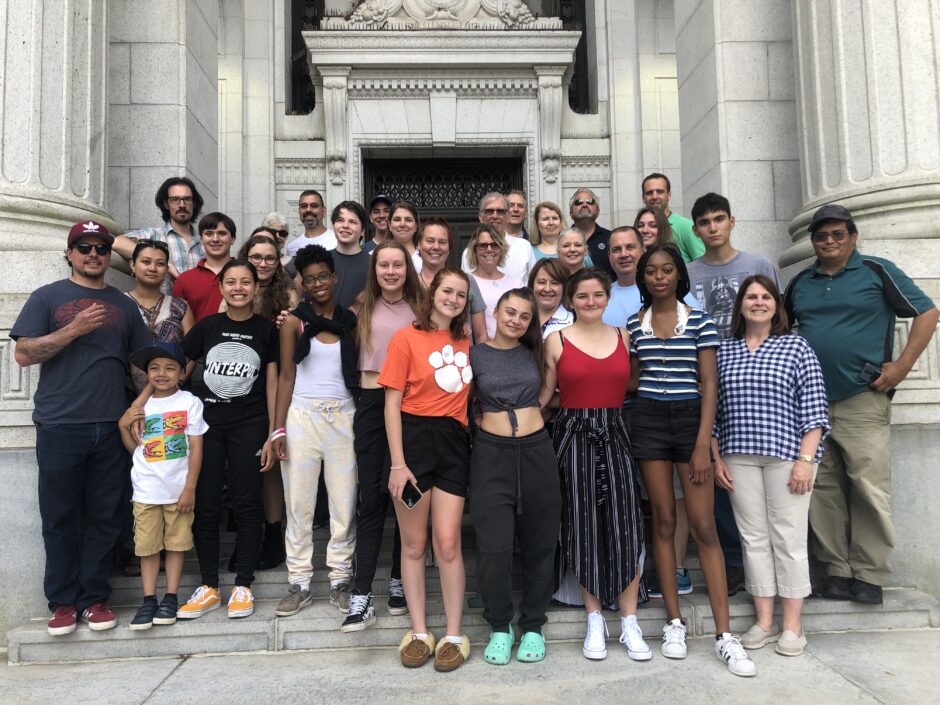 We all met at the Connecticut State Library on the morning of July 6, 2019, to begin our long journey to Seicheprey. The excitement was palpable as students arrived and our staff checked, double-checked, and triple-checked our paperwork to make sure we had everything we needed!, and the security staff in our building were a bit harried having 14 kids (one was meeting us in Boston), their families and mounds of luggage coming in on a Saturday morning, but they were good sports.
We took the photo above on our front steps once everyone had arrived but before the bus that would be taking us to Logan International Airport in Boston got there. Once that arrived, we loaded mounds of luggage aboard and said our goodbyes to our families. For many of the kids, this was not only the first time they were going to a foreign country but also the first time they were leaving home, and only one of the three chaperones had ever taken kids abroad! This was going to be an adventure.
We got to Logan in plenty of time, met up with Aaron and his parents who had driven down from Maine, and got ourselves and our luggage checked in without issue – coming home would be another story – through security and to our gate to wait. The kids got to know each other a little better while we began to fret. We were taking these kids to a foreign country to work in World War One trenches after all.
Finally we boarded the plane, scattered across a few rows, and took off for the adventure of a lifetime. We had an overnight flight so we tried to sleep – some of us faring better than others – and landed at Charles de Gaulle the next morning. The excitement, mixed with a bit of fear and apprehension, kept us awake as we shepherded the kids through customs and made our way to our luggage.
Charles de Gaulle is huge and by some miracle, we were able to find Sjoerd van der Ven, aka the Dutch Doughboy, who would be another chaperone and translator for our group. However, the airport is set up so that once you leave the baggage area, you can't get back in, so we had to to wave to Sjoerd through the glass s until we had all of our luggage. That took a bit though because one suitcase was misplaced, so while Kate helped to find it, we had to use hand gestures and WhatsApp to have Sjoerd relay a message to our bus driver to let him know what was happening. Finally, luggage found, we loaded everything on another bus and started the three-and-a-half-hour journey to Seicheprey.
The kids, exhausted by the journey so far, took the long bus ride as an opportunity to rest. It was one of the last times they'd all be quiet at once! We stopped about ⅔ of the way through the trip because French bus drivers must take rest stops at regular intervals but it gave us a chance to stretch our legs and get something to eat. This was our first real taste of France – in the form of a rest stop . Loaded up on sugar and caffeine we set off again, and as we came near Commercy we began to see signs for the Tour de France which would be passing through here in a few days.
Finally, we were on the D958, the road that would take us to the Carrefour de Jeunes in Beaumont where we would be staying. Soon after passing the Beaumont sign, we saw the crowd gathered outside and knew we had made it to our temporary home! The bus pulled up and as we unloaded our French friends were there to greet us. The kids looked warily at each other, they had introduced themselves virtually, but face to face was a bit more overwhelming and would take some time.
The Carrefour des Jeunes is a group accommodation run by local civic organizations and overseen by the Communauté de Communes Mad et Moselle. It consists of two buildings, la Maison de la Fôret and la Maison Lorraine, with dorm-like rooms in each. In La Maison Lorraine, there is a large meeting room and kitchen on the first floor with dorm rooms upstairs. In la Maison de la Fôret there was a small kitchen and dining room on the first floor, with dorm rooms upstairs. Outisde there is a large yard, with a big canopy tent with tables set up for our meals. La Maison Lorraine hosts a summer camp-type daycare downstairs so the big room and kitchen were off-limits to us, so we'd be using the other kitchen and smaller dining room for breakfasts and such.
The boys would be staying in La Maison Lorraine and the girls in la Maison de la Fôret (from now on the girls' dorm and boys' dorm) and while the boys rooms and bathrooms were a bit bigger, the girls had the wifi! Rooming assignments completed (American students and French students would room separately for now) we shuffled the kids off to stow their luggage and freshen up before we were officially welcomed.
Luggage stowed in our rooms, it was time to head down to the main room to start Digging Into History. We introduced ourselves and gave our French hosts the gift bags we brought over. The Connecticut Office of the Arts and State Historic Preservation Office hooked us up with some fun tote bags which we filled with Connecticut branded notebooks, pencils, and the t-shirt with our logo, a brilliant drawing Daniella Lebron had made. Our French hosts then presented us with the t-shirts they designed, complete with the Connecticut state flag!
Then came a small meal (un goûter) of Quiche Lorraine and a salad, followed by some tarte aux mirabelles and a hearty singing of Happy Birthday in honor of Red's 30th birthday! We tried to keep everyone up as long as possible to "shock" our systems into French time, but by 9:00 p.m. everyone was ready to crash. Morning was going to come quickly and we had to get an early start.