Here's your chance to experience what it was like to be a doughboy on the battlefields of World War I.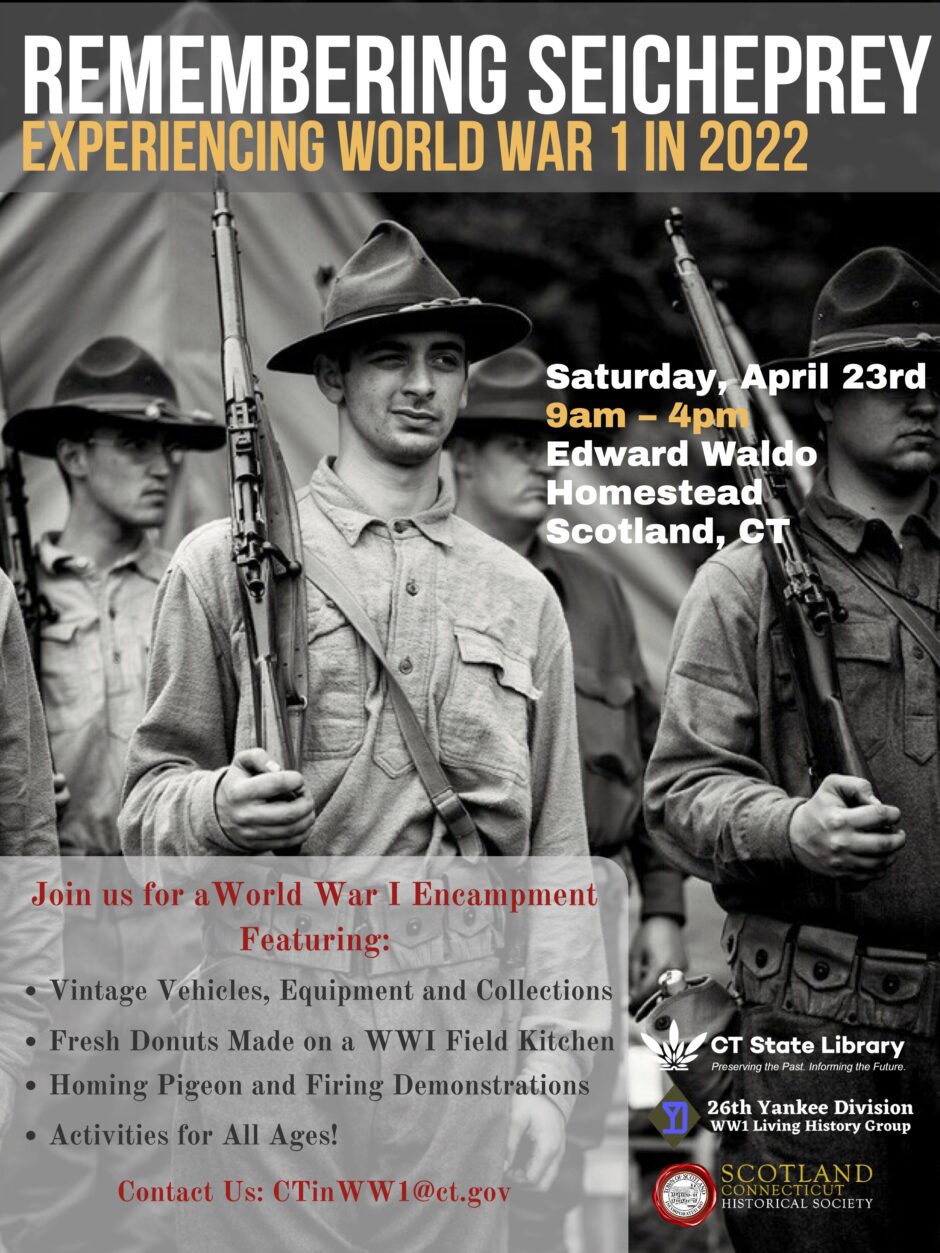 American, German, and French soldiers will be on hand to show you what life was like for a soldier in the trenches of France circa 1918.
We'll have vintage vehicles, equipment, and other collections, and we'll even be making fresh donuts in a working WWI field kitchen.
There will be demonstrations featuring homing pigeons, vintage radios, and vintage artillery like the Hotchkiss Machine Gun and Stokes Mortar.
You'll have the chance to see presentations about visiting the Western Front, and displays about the Italian front, life as a 103d Field Artillery soldier, Digging Into History program, and Sgt. Stubby, Connecticut's favorite war dog!
We'll even have some hands-on activities and storytimes for the kids!
We'll be posting a schedule of events soon so stay tuned!
Schedule of Events (tentative)
09:00 – Reveille
10:00 – "Planning a Battlefield Tour: Tips and Alternatives" – Randy Gaulke
10:30 – Sgt. Stubby Story & Craft Time
11:00 – Pigeon Demonstration
11:30 – Firing Demonstrations
Demonstrations of American, German, French, and English weapons from WWI
12:00 – Moment of Silence for Seicheprey
1:00 – Sgt. Stubby Story & Craft Time
1:30 – Pigeon Demonstration
2:00 – "The Yankee Division's Battlefields Through the Griffin Group Photo Archive." – Randy Gaulke
3:00 – Firing Demonstrations
Demonstrations of American, German, French, and English weapons from WWI
4:00 – Taps